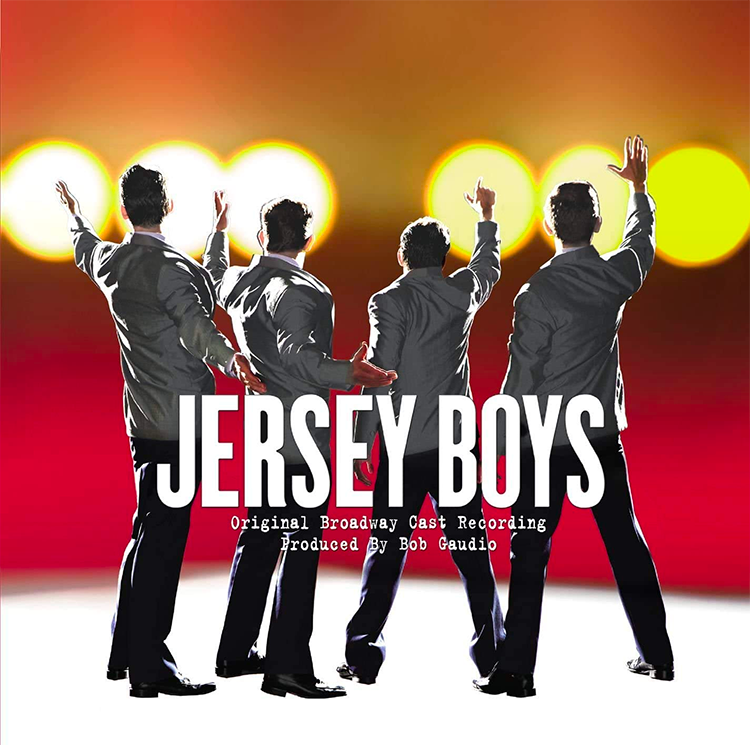 A Word About The Language in Jersey Boys
In the beginning, there was Tommy DeVito, a loudmouthed hustler whose guitar work almost matched his swagger. He brought together Nick Massi, a bass player and singer with a genius for harmony, and Frankie Valli, a kid with one of the best voices for miles around. For a while, it seemed these Jersey Boys were more likely to wind up in Sing Sing than in the Rock & Roll Hall of Fame. After all, knocking over a jewelry store could bring in more cash than a Newark club date. This was life in Jersey. If you were a guy, you had a certain armor – armor used to protect and promote yourself on the street, armor that helped you survive. Armor comprised of the typical macho props – cars, crimes and curses. The cars and the crimes in Jersey Boys are part of the language of our show. The curse words are part of that language too – not the language you hear in church, or even in most Broadway shows, but the language of the Jersey streets. In an effort to be authentic, and to give you an authentic experience, we not only present the Four Seasons songs as they sounded on the records, we respectfully present the guys themselves as they sounded on the streets, warts and all – language included – so you can understand, in a more meaningful way, who and what they are.
Rick Elice, co-writer of Jersey Boys
PRIVACY POLICY
Effective Date: July 1, 2021
Your privacy is important to us. To better protect your privacy, we provide this Privacy Policy explaining our online information practices and the choices you can make about the way your information is collected and used.
THE INFORMATION WE COLLECT
This Privacy Policy applies to all information collected or submitted on the JERSEY BOYS NEW YORK website. On some pages, you can register to receive materials via the Internet. The types of personal information collected on these pages may include the following: Name and Email Address.
THE WAY WE USE INFORMATION
When you register for the JERSEY BOYS NEW YORK mailing list to receive updates, we use the information you provide about yourself only to complete that request. We do not share this information with outside parties except to the extent necessary to complete that request or if you select to receive information from a partner. We use return email addresses to answer the email we receive. Unless the same email addresses have been used to register for the JERSEY BOYS NEW YORK mailing list, such addresses are not used for any other purpose and are not shared with outside parties. We use non-identifying and aggregate information to better design our website and to share with advertisers. For example, we may tell an advertiser that X number of individuals visited a certain area on our website, but we would not disclose anything that could be used to identify those individuals.
COOKIES
A cookie is a small piece of information sent by a website or its service provider that is saved on your hard drive by your computer's browser. Almost all websites utilize cookies to one extent or another. The JERSEY BOYS NEW YORK website uses its cookies along with various ad retargeting and tracking. Users receive cookies from these partners when they visit jerseyboysnewyork.com and/or when they visit one of partner advertisers' websites. Partners only collect information for the use of serving retargeted ads, advertising purposes and custom audiences. Any partner found in violation of this policy will immediately be removed. Finally, we never use or share personally identifiable information provided to us online in ways unrelated to the those described in this Privacy Policy.
ANALYTICS
The Google Analytics tracking code used on this site allows JERSEY BOYS NEW YORK to track Google Analytics Demographics and Interest Reporting. This data allows a better understanding of who our users are and how converting and non-converting users differ. These demographic and interest categories are also used to target ads on the Google Display Network. Using Ads Settings (https://www.google.com/settings/ads), users can opt-out of Google Analytics for Display Advertising and customize their Google Display Network ad settings.
OUR COMMITMENT TO DATA SECURITY
To prevent unauthorized access, maintain data accuracy and ensure the correct use of information, we put in place reasonably appropriate physical, electronic and managerial procedures to safeguard and secure the information we collect online. Should you elect to register for the JERSEY BOYS NEW YORK mailing list, your email address will be stored within a third-party communication system – Emma. Though Emma's servers are located in the United States of America. Emma has stated that it is committed to achieving compliance with the European Union's General Data Protection Regulation (GDPR), which requires that all data subjects be notified within 72 hours of discovery of a data breach.
YOUR CONSENT
This Privacy Policy is effective as of the date set forth above. We reserve the right to amend this Privacy Policy at any time, so please review it frequently. If our information practices change, we will post an updated Privacy Policy here. You can tell if the Privacy Policy has changed by checking the revision date that appears on this Privacy Policy. Any such change will be effective immediately upon posting, and your continued use of the JERSEY BOYS NEW YORK website or provision of information to us signifies your acceptance of any such change. Use of information that we gather is subject to the Privacy Policy in effect at the time of use.
HOW TO CONTACT US
Should you have other questions or concerns about this Privacy Policy, please send us an email us at [email protected].